9 Business Advices By Mehul Panchal On How To Win Business Competition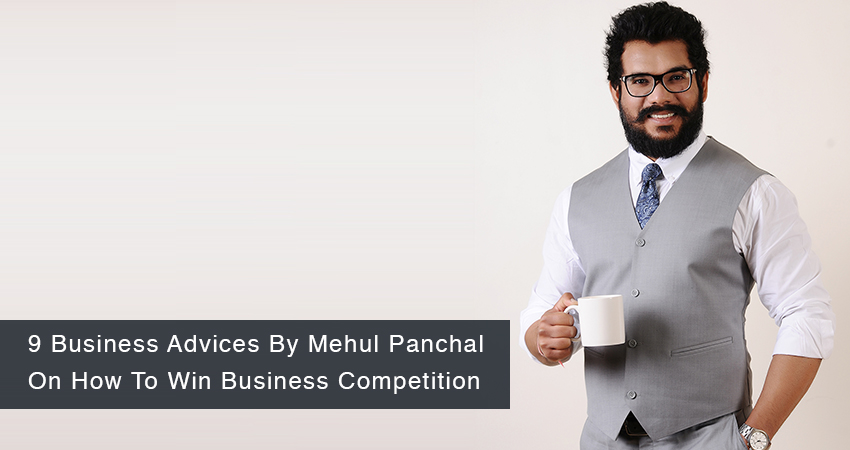 The precise approach can create a notable difference in business when you are an entrepreneur. Long-term planning often gives you an idea about the probable problem spots and business ideas which would work better for your under-establishing startup. This is why having Business Advice from someone who has already been into such a scenario means a lot for budding entrepreneurs. But finding someone who is really caring about your business and ready to share the experiences is difficult. Not every successful business person would readily share the business advice with you without a motive in it. This implies that you must have your ears bowed to those who have your best concern in mind. A virtuous advisor can offer inspiration where looked-for reproaching, if needed to and leadership on any number of topics, all devoid of attempting to run the business themselves. The more the senior business person is, the better is his piece of advice. Friends and others at the similar platform of business as you, such as, may have a quicker viewpoint on how things are presently functioning, or what new know-hows or practices are worth your attention.
To help you do well, Mehul Panchal Chairman & Managing Director of Filter Concept Pvt. Ltd. Ahmedabad shared his pieces of business advice which he had followed early in his career, something that he now shares with all his followers and well-wishers.
Understanding the Market by Thorough Research: You should never be hurried when doing the market research. Understand, analyze and know your market well before entering into it. Take the time to do the market's need, demand and supply patterns. You should also aware of the requirement of the market. Meet your business competitors to get certainly in sync with them to discern where they're at right now, what technology they are using and who their customers are. This will help you set your goals and plan where you want them to be. The moment you are through with it is the time to move to the next stepi>

Dedicatedly Do The Hard Work: Setting up a startup is comparatively tougher than having any other job. Prosperous entrepreneurs should definitely function well through a range of roles like Sales, Marketing, Finance, Operations, HR, etc. Besides that, taking an initiative from scrape necessitates originality, determination and unceasing learning.

Plan Your Life According To Your Wish: No one else can plan your life better than you. You know; where to adjust and where not, how to deal and when to react. When you think to be an entrepreneur; behave as if you are free-flowing water; whatever would be the shape of the mold; you would fit in to be the ice-cube of the desired shape. Plan your life as you wish it to be for you and lead in view of that.

Have a Conversation with your Clients: Truthfully pay attention and commiserate with your clients. Everybody is so fascinated in getting their personal message through, that no one hiatuses awhile to truly listen and catch the root of the problem or discomfort. Have faith in listening 80% of the time, illuminating 10% of the time, and answering enthusiastically and deliberately, is the leftover 10% of the time.

Team Learning: Many entrepreneurs resolve to learn by themselves. They read a book or be there at a conference by themselves. Noble entrepreneurs study with the help of a guru. A guru can come in conjunction with an entrepreneur and help the entrepreneur understand things from a dissimilar viewpoint. The finest entrepreneurs study with a team.

Emphasize On What Makes You Succeed: Be unremorseful and unyielding with what makes you flourish. Several times, we are prejudiced from the external world, and puff our own wishes for the sake of persons nearby us. The more readily you are capable to clutch this chunk, the quicker it will radically transform your world.

Play the Stretched Game: Its fine to get absorbed in the everyday tasks of organizing a business, but you MUST lay down time in any case once a week to yield a stock of what you're undertaking for the long-standing well-being of your startup. That takes in Advertising, Working out, Employee Improvement, Public Engagement, and Capital Expansion. Sound savings at the moment will pay bonuses in the future.

Revolve Around the Rewards: This may sound like a formula, but Mehul Panchal's frank advice is to opt for it when considering beginning a new business endeavor, not with standing the fear it may not work out. One should accept to the attitude that the complete excursion is a big experimentation and that "disappointment" is not a choice, as, in the end, it is learning and development that we will get. Concentrating on the rewards as an alternative of the fear is the actual key to achievements.

Connection with Knowledgeable Ex-s: One should not miss any opportunity to connect with and acquire from more skilled senior managers, in addition to counselors and coaches that he knows. Additionally, coverage to detailed conferences, assembly room conversation and calculated planning would be absolutely advantageous.
To Conclude: Even though your Business Competitor has an enhanced product and is keen to sell it at an inferior price, you can still earn. Every challenging business has weak points and places where your brand can overtake. Never be disappointed of what you cannot do; rather be confident about what you can do.